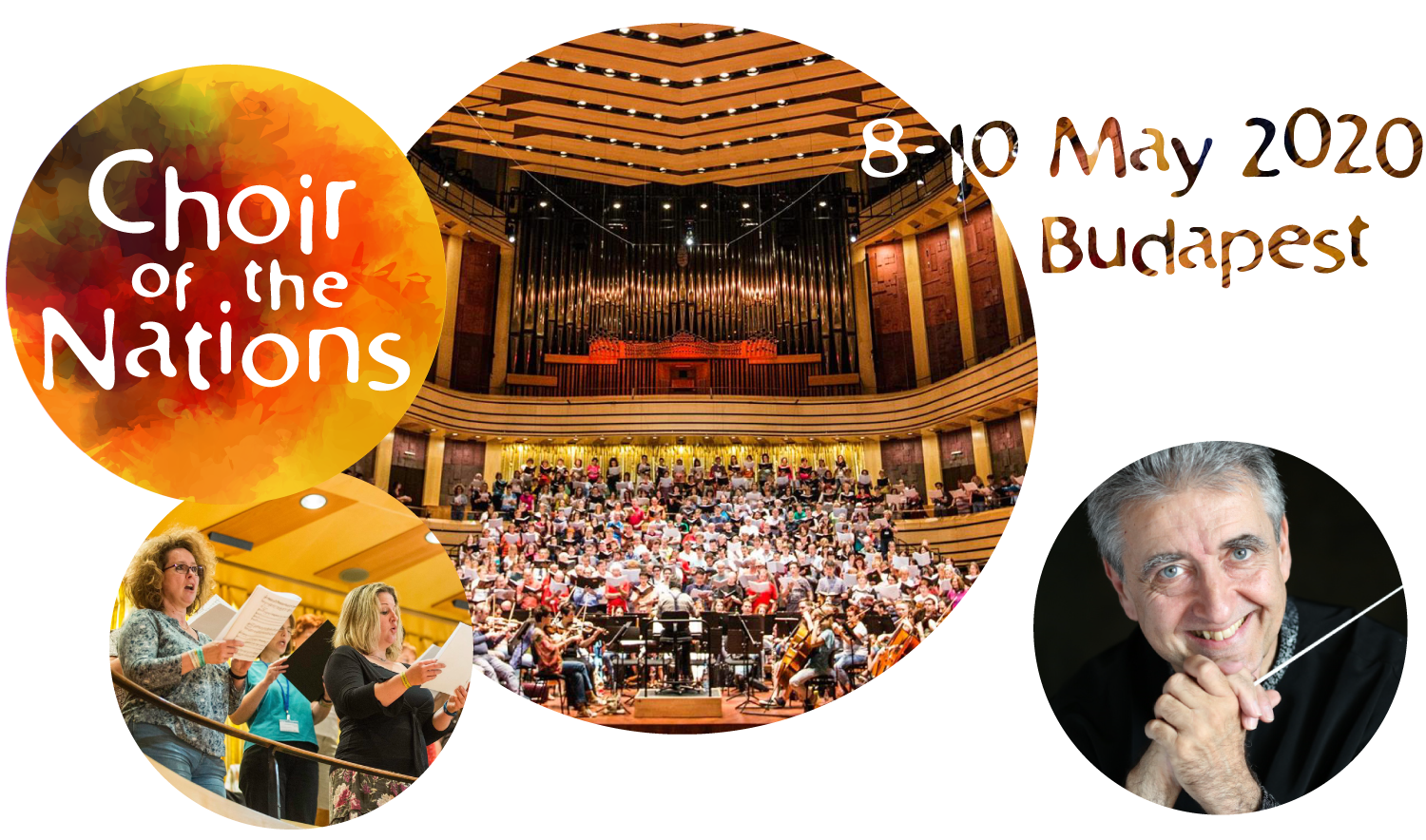 Have you ever been involved in
a choir of

300 members


from

all over the world?
If you have, you'll probably never forget the experience and are eager to be part of it again.
If not yet, it's time to give it a try!
Come to beautiful

Budapest

,
get immersed in the

magical vibes of the city

,
and perform one of the

most impressive musical works

ever written
with

one of the best philharmonic orchestras

in Hungary!
What is Choir of the Nations?
Choir of the Nations is a brand new initiative based on and organised by the experienced team of Énekel az ország ("Let the Country Sing"), a Hungarian amateur choir movement dating back to more than thirty years under the lead of musical director Gábor Hollerung (Liszt Ferenc Prize winning conductor and chorus master; Meritorious Artist of Hungary; Executive Music Director of Dohnanyi Orchestra Budafok; founder and Art Director of Budapest International Choir Competition). After many years of successful choir projects for around 450 choir members and individual singers per year, they decided to open the gates and give a chance to get involved for choir enthusiasts all over the world. Individuals as well as groups of singers are welcome to participate. Be part of it!
A unique experience of performing
Beethoven's 9th Symphony

as part of an international pop-up choir of

300 members

in the magnificent Béla Bartók National Concert Hall of

Palace of Arts, Budapest
Working together with world-famous conductor
Gábor Hollerung

and

Dohnanyi Orchestra Budafok

, a pre-eminent philharmonic orchestra in Europe
An
insight of Beethoven's work

focusing on the 9th Symphony
A
weekend in Budapest

together with choral friends from all over the world
Tentative schedule
Friday, 08/05/2020
Arrival at Budapest
17.00 Sightseeing in Budapest: discover the musical history of Hungary with an experienced guide (optional)
Saturday, 09/05/2020
10.00-11.00 Beethoven's 9th Symphony – a short introduction by Gábor Hollerung
11.30-16.00 rehearsal (choir only, with lunchbreak)
19.00-22.00 Meet&Greet&Eat – getting to know each other with a Hungarian culinary experience
Sunday, 10/05/2020
9.15-12.30 dress rehearsal with Dohnanyi Orchestra Budafok
participants have an opportunity to attend the dress rehearsal of the Triple Concerto by Beethoven (first half of the concert)
19.00 preparation for the concert
19.30-22.00 CONCERT
22.00-22.30 Farewell (on-stage)
Participation fee: 90 EUR/person*
*Incl. VAT
Travel expenses, accommodation and catering (except for the Meet&Greet&Eat) are NOT included in the fee.
Organisers are ready to offer assistance with hotel reservations if needed.
Participants must bring their own original scores/sheet music.
Using photocopied scores is not allowed.
It was fantastic, just like all concerts of Dohnányi Orchestra.
It was a grand performance, I'm happy that I could be part of it.
I'm still under the spell of this concert. Congratulations!
I still haven't come around, it was such a joy to sing with you.
Truly, it was the most wonderful experience of my life that I could sing with you.
I congratulate all of you from the bottom of my heart. It was such an indescribable delight. THANK YOU! I'd like to sing with you next year.
"It's Monday morning. I'm sitting here in the school, the class are taking a reading literacy test. Somehow I don't feel the inner strength to teach today. I'm still pulsating. Last night in the car on my way home I was still completely possessed by our concert and then, finally, I sunk into a dreamless sleep. But the next morning I couldn't find my place, coffee tasted different although I drank it from a 'sacred vessel'. Strange are the people at the petrol station, strange are the colleagues in the teachers' room, strange are the children in the corridor and in the classroom. No, it's not them. It's me. I'm the one being strange, because yesterday we again experienced something extraordinary. I need a few days to be able to fit in again. A year to go and everything will be this strange again. Thank you, thank you, thank you! Thank you, Eszter, for organising this event, for the colossal amount of work you've put into this. Thanks to all the organisers for their contribution. Thank you to the Maestro for the comprehensible explanations, the divine hairy armed cues and the pulsation. Thank you to my fellow choir members for their energy, perseverance and swollen feet, and the fact that we have sung through this together."
Kata Juhászné Szabó (Let the Country Sing, 2019)
"I still haven't fully come around after the inexplicable joy of singing Belshazzar. Perhaps this is because when we began, I couldn't possibly imagine that I would fall in love head to toe with this piece and it would be able to trigger such intense emotions in me. This year's Let the Country Sing experience has surpassed even my very first one, which is quite an achievement."
Katalin Wéber (Let the Country Sing, 2019)