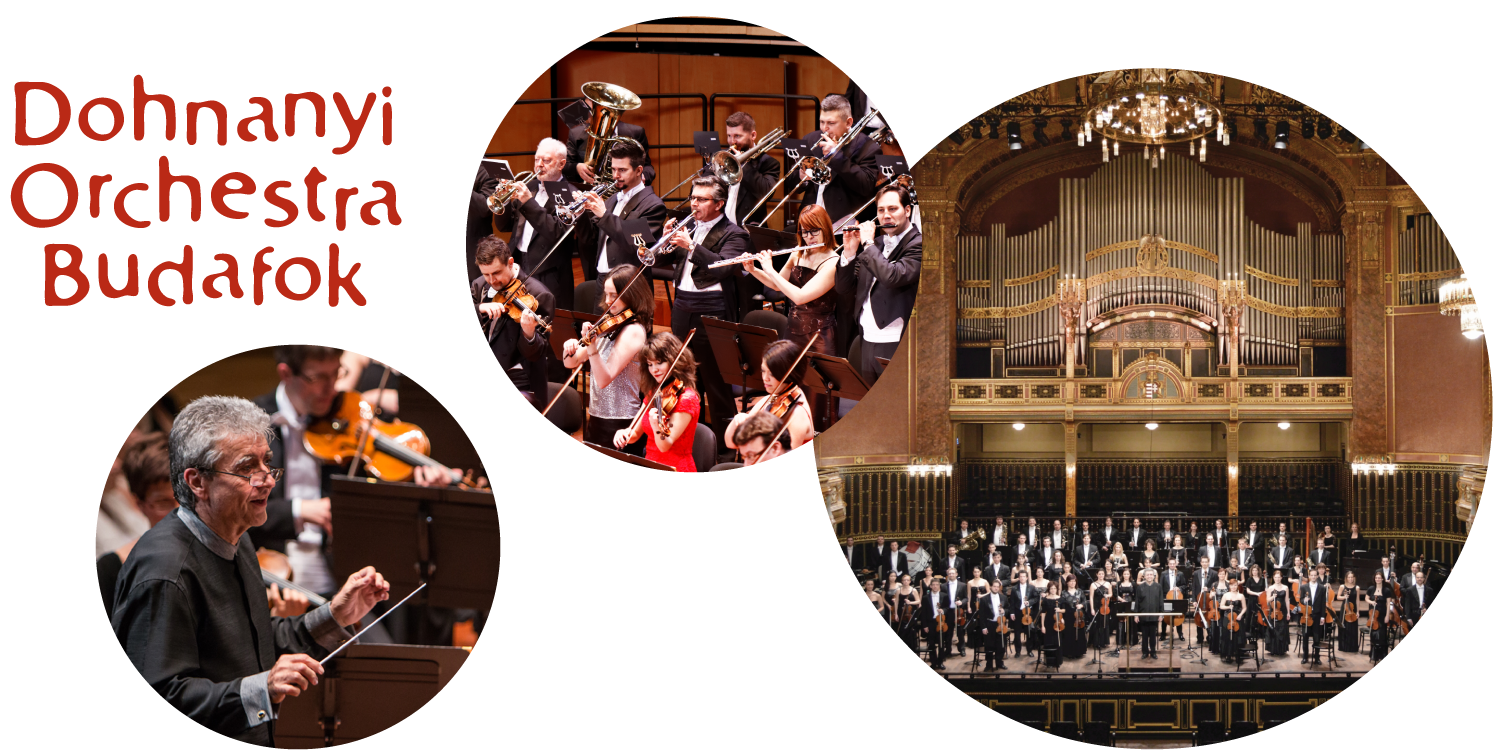 The Dohnanyi Orchestra Budafok (BDZ) is Hungary 's most dynamic and versatile symphony orchestra. It has become a professional orchestra in 1993, to gain recognition on the Hungarian and international music scene and become one of the top classical music ensembles in such a short period of time under the baton of Maestro Gábor Hollerung, Liszt Award winning conductor, Merit Artist of Hungary.
They worked with many of the greatest Hungarian and international artists, including Shlomo Mintz, Elena Bashkirova, Jaakko Ryhänen, Erika Miklósa, Andrea Rost, René Barbera, Pietro Spagnoli, Bruno de Simone, José Carreras, Andrea Bocelli, Rivka Golani, Roberto Paternostro, Jörg Peter Weigle, Michael Stern, Tatjana Vassilieva, Zoltán Kocsis, Jenő Jandó, Dezső Ránki, Gergely Bogányi, János Balázs, Paul Huang, Tamás Pálfalvi, Kristóf Baráti, Barnabás Kelemen among others.
In January, 2018 the internationally renowned Austro-Italian conductor, Guido Mancusi took the position of Principal Guest Conductor at BDZ, and Levente Gyöngyösi, one of the most outstanding young, 21st century composers, was engaged as the resident composer of the orchestra.
They run two abonnements at the Liszt Academy of Music and one at the Béla Bartók National Concert Hall in MÜPA Budapest. The latter has been running for six years now as a coproduction between BDZ and MÜPA. The highly popular four-part series called "Music+" goes far beyond the frames of a regular concert, combining music with various branches of performing and visual arts.
Thus, beside the traditional symphonic and oratorio repertoire BDZ's creative team has staged a great number of productions with some of the most outstanding Hungarian choreographers and dance ensembles (Szeged Contemporary Ballet, Yvette Bozsik Company, Feledi Project, Forte Danse, Coincidance, Central Europe Dance Theatre etc.).
Every season they present a scenic production (Mascagni: Cavalleria rusticana, Bizet: Carmen, Verdi: Don Carlos, Orff: Carmina burana, Kodály: The Spinning Room, Honegger: Jean d'Arc, Berlioz: The Damnation of Faust, Offenbach: Orpheus in the Underworld, Rossini: The Barber of Sevilla, Beethoven: Fidelio). Their staged performance of Bach's St John's Passion enjoyed a particularly remarkable success in 2016.
In 2009 BDZ launched its unique film music concert, which is today the best-selling and most sought after symphonic project in Hungary.
The orchestra is regular guest of top music and art festivals (Budapest Spring Festival, Café Budapest Contemporary Art Festival, Jewish Cultural Festival, Bartók+ Opera Festival Miskolc, BudaFest, Beethoven Festival, Sion-Valais Festival etc.). They are the resident orchestra of the Zemplen Festival, the most significant art festival in Eastern Hungary.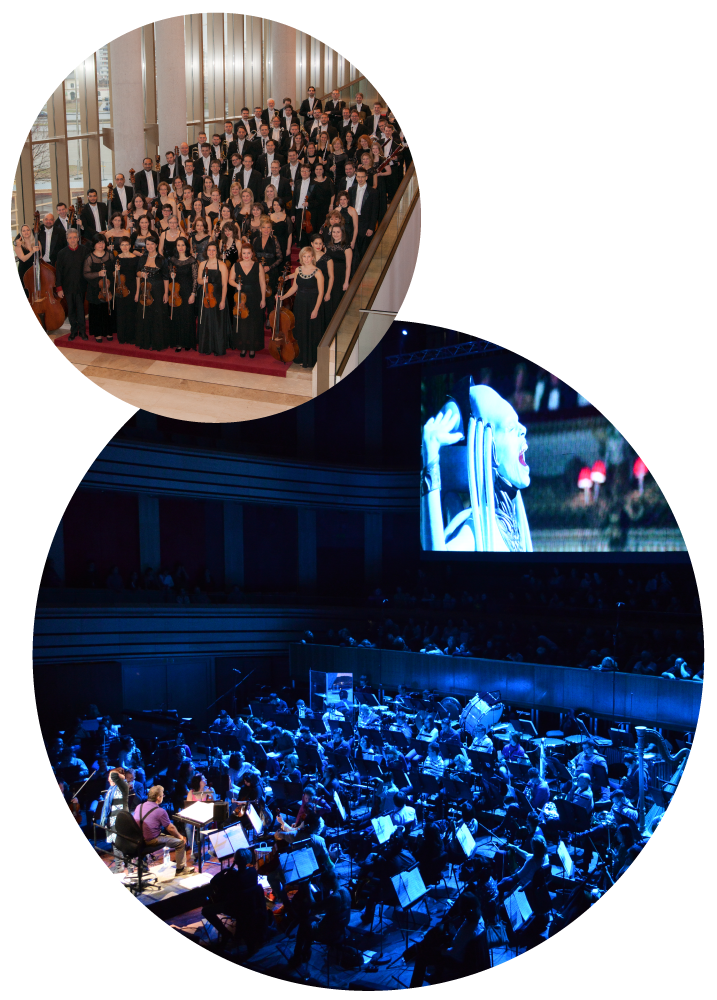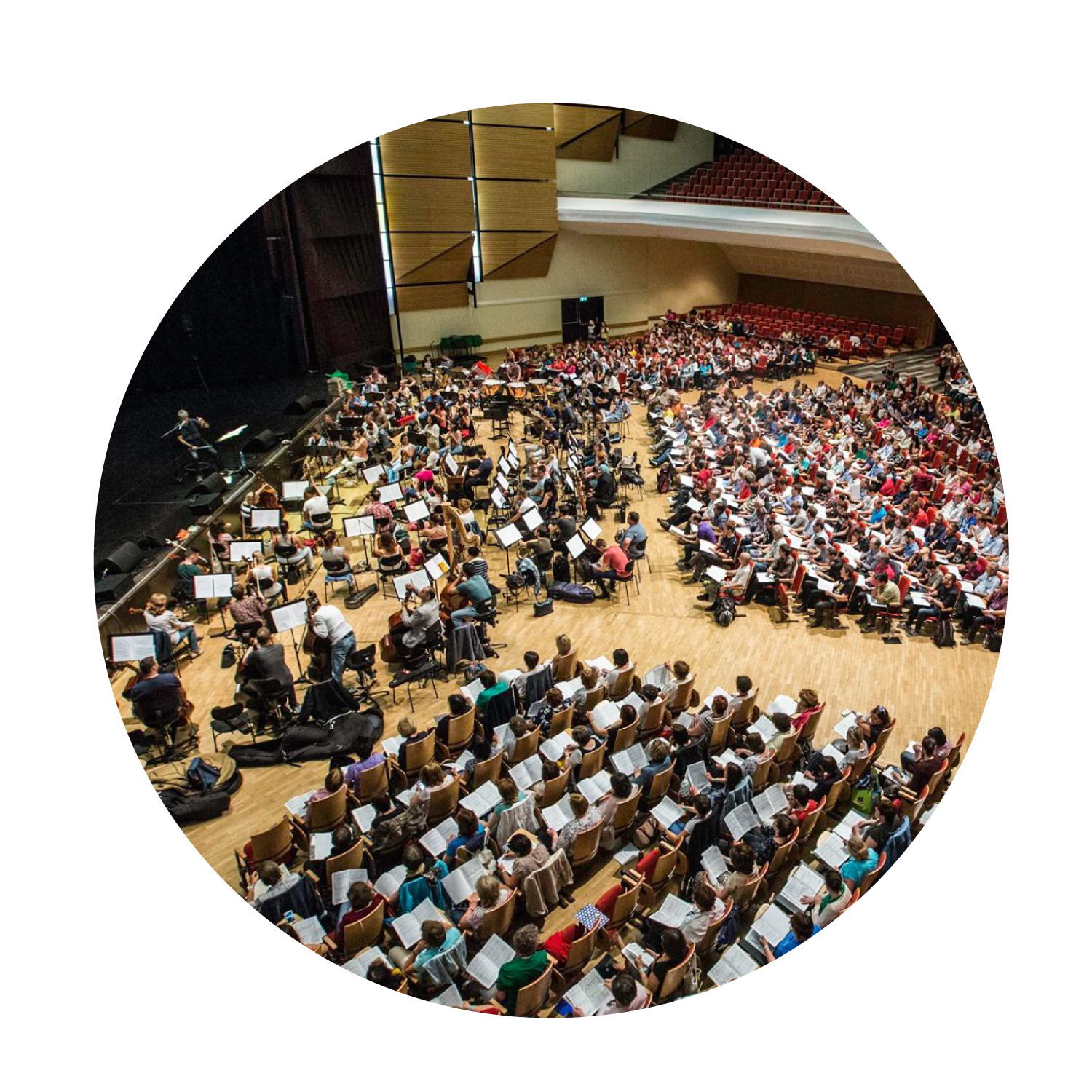 BDZ is also actively present on the international concert stage. They played in almost every European country in such reputed concert venues as the Frankfurt Alte Oper, the Concertgebouw Amsterdam, the Vienna Concert Hall, the Bremen Glocke, Palau de Música in Valencia. They presented grandiose concert shows in 2000, 2004 and 2008 in the exhibition halls of Bremen, Linz and Graz and a grand television show of ORF Austrian broadcasting company. They gave a concert at the Arturo Benedetti Michelangeli Festival and the played in Bonn at the Beethoven Festival and in Berlin at the concert celebrating the Day of German Reunification. They toured with their staged Honegger and Berlioz productions in Zagreb and Ljubljana.
The orchestra made its debut at Carnegie Hall in NYC in 2015.
Their versatility is proven by a wide repertoire, which reaches from the classical to the contemporary, from jazz and pop through world music to film music. BDZ also has its very own and much celebrated Big Band.
In 2011 BDZ accompanied Sting at two concerts of his Symphonicity Tour, in 2017 they played with José Carreras and Andrea Bocelli. In 2018 Quincy Jones's Budapest concert was also accompanied by BDZ and in June 2019 they are engaged to play with the world-famous vocal group Take 6.
It was fantastic, just like all concerts of Dohnányi Orchestra.
It was a grand performance, I'm happy that I could be part of it.
I'm still under the spell of this concert. Congratulations!
I still haven't come around, it was such a joy to sing with you.
Truly, it was the most wonderful experience of my life that I could sing with you.
I congratulate all of you from the bottom of my heart. It was such an indescribable delight. THANK YOU! I'd like to sing with you next year.
"Thank you to each and every performer for tonight's concert. You were terrific! It was such a pleasure to see plenty of familiar faces. I know exactly how much effort you all have put into preparation and rehearsal, and I'm aware that the preparation period itself was already a huge delight but you dotted the i's and crossed the t's with this amazing concert. I had not known this Walton composition before but I'm positive this was not the last time I listened to it. It enchanted me from the first moment to the last, I was caught immediately. I was captivated in a split second already when you entered the stage. Thank you all for this joy!"
Mónika Szlaukó (Let the Country Sing, 2019)
"From the bottom of my heart and tipping my hat I congratulate all singers performing at tonight's concert. Belshazzar's Feast was a fascinating, wonderful performance, you can be proud of yourselves and of this incredible achievement delivering this exceptionally difficult piece at such a high standard."
Norbert Murai (Let the Country Sing, 2019)